This post may contain affiliate links. If you purchase something through that link, I will make a small commission at no additional cost to you. Thanks in advance for your continued support!
When the Prince and I went to Hawaii last summer, our number one non-negotiable was visiting Pearl Harbor. We're massive history and political nerds, and we have an equal fascination with anything and everything to do with WWII. Both of his grandfathers fought on the German side during WWII. I'm so intrigued by their stories and how Germany moved on following WWII (I took an entire class during university on post-WWII Germany). However, the Pacific front is not studied as much in school. I remember that my father took us as kids to the Iwo Jima Memorial in Washington, D.C. when we were living there and explained how the USA fought island-to-island. Additionally, it was common to have debated in middle school and high school for/against dropping the atomic bomb. It's always been a bucket list item to visit Pearl Harbor and I'm so grateful I had the opportunity to do so last summer.
History of Pearl Harbor
I come from a proud line of naval officers so anything to do with the Navy particularly interests me. For the most part, Pearl Harbor was caught relatively unaware and unprepared on December 7, 1941. The Pacific Fleet was initially stationed in California and Washington. After the outbreak of WWII and fearing Japanese aggression, FDR moved the Pacific Fleet to Hawaii in an act of intimidation. He, along with most U.S. generals, assumed that Japan would attack the Philippines and protection was needed there. However, they all believed Hawaii would never be attacked and any attack that occurred at Pearl Harbor would come from locals (as there was a large Japanese population in Hawaii). Lastly, if war did break out, etiquette assumed that the Japanese would notify the United States ahead of time. While Japan did attempt to notify Washington, D.C. 30 minutes before the attack, miscommunication and confusion in decoding the message gave the United States no warning. Pearl Harbor awoke on Sunday, December 7, 1941, to a surprise attack from the Japanese.
Technically, the United States and Japan were still engaged in peace negotiations during the attack on Pearl Harbor (as they had been for several months). However, the Japanese had already formed preliminary plans to attack Pearl Harbor in early 1941. They hoped to decrease U.S. morale and stop the United States from interfering in the Pacific. However, the attack on Pearl Harbor ended up being the catalyst for the United States joining the war.
Planning a trip to Hawaii? Check out this additional post:
Attack on Pearl Harbor
As I mentioned above, there was confusion ahead of time in terms of receiving information from Japan and properly relaying the message to Pearl Harbor. Around 8:00 am Hawaiian time, Japan launched its first round of attacks. This was followed by a second wave of attacks. 90 minutes later, it was all over. Japan initially wanted to launch a third wave of attacks but held off for numerous reasons. After all was said and done, within 90 minutes the United States suffered:
2,403 American casualties
1,178 Americans wounded
All 8 battleships were damaged, 4 were sunk
1 ex-battleship sunk
3 cruisers damaged
3 destroyers damaged
188 aircraft destroyed
159 aircraft damaged
"December 7, 1941—a date which will live in infamy" – President Franklin D. Roosevelt"
The shallow water of Pearl Harbor played in favor of the United States. Of the 21 ships that were damaged/sunk, all but three were repaired and returned to service. It made it easier to refloat and salvage ships in shallow water.
Additionally, none of the United States' three aircraft carriers were damaged or destroyed. On the morning of December 7, 1941, the United States' aircraft carriers were still out at sea on a mission. They were scheduled to return to Pearl Harbor on December 6, 1941, but bad weather forced them to slow down and delay their return. The destruction of the three aircraft carriers would have been a massive blow to the United States.
Information about Visiting Pearl Harbor
There are a few things I wish I had known ahead of time before visiting Pearl Harbor on my own. Here are some hints and tips you should know before taking a trip to Pearl Harbor!
Opening times: Pearl Harbor National Memorial is operated by the National Park Service. It is open seven days a week from 7:00 am – 5:00 pm. It is just closed on Thanksgiving, Christmas Day (25th), and New Year's Day (1st).
Functioning Base: Pearl Harbor is a working and functioning United States Naval Base. I had no idea that it was still operational – it is home to the United States' Pacific Fleet and is a critical location for our Navy.
Spread Out: Things are very spread out for visiting Pearl Harbor. The memorial is divided into two sections – the main visitor center and Ford Island. There is a free shuttle bus between the two locations that takes approximately 15-20 minutes. If you want to see everything, plan to spend the entire day at Pearl Harbor.
Bag Storage: You are not allowed to take bags over 1.5″ X 2.25″ X 5.5″ in the memorial. However, there is a storage location to the right of the main entrance. They charge $5 per bag. The Prince and I stored our carry-on luggage there. It was super easy and efficient, and we didn't have to wait at all. It saved us a ton of time because we didn't have to go to our hotel beforehand! Bag storage is open from 6:30 am – 5:15 pm
Dress Code: Be courteous. This is the final resting place for thousands of soldiers. Please be respectful in your attire. No bathing suits or clothing with profanities are allowed.
Sunscreen and Comfortable Shoes: This is common sense but most of Pearl Harbor is outdoors with very little shade. Additionally, there is a lot of walking involved! Make sure to slather on the sunscreen and wear comfortable walking shoes.
USS Arizona Memorial: It is free to visit but you must have a ticket. Tickets are released in two windows – 60 days in advance or 24 hours in advance. Ticket reservations for 24 hours in advance open at 7:00 am Hawaiian time the day before. You can also reserve tickets day of as a walk-in. However, especially during holidays and high season, these tickets are all snatched up in only a few hours (maximum). Find out more about reserving tickets.
Visiting Pearl Harbor Historic Sites
USS Arizona
Most people come to Pearl Harbor to view the USS Arizona. Of the 2,403 Americans who lost their lives on December 7, 1941, 1,177 casualties came from the USS Arizona, including 23 sets of brothers. One of the bombs to hit the USS Arizona landed near the magazines that held the ship's stores of gunpowder – this caused a fiery explosion that lifted the USS Arizona out of the water. The ship burned for over 2 days and oil is still spilling out of the USS Arizona, even to this day. It is one of the two ships that was never raised from Pearl Harbor. As the final resting place for over 1,100 men, it continues to be a sacred and holy spot for those who come to visit.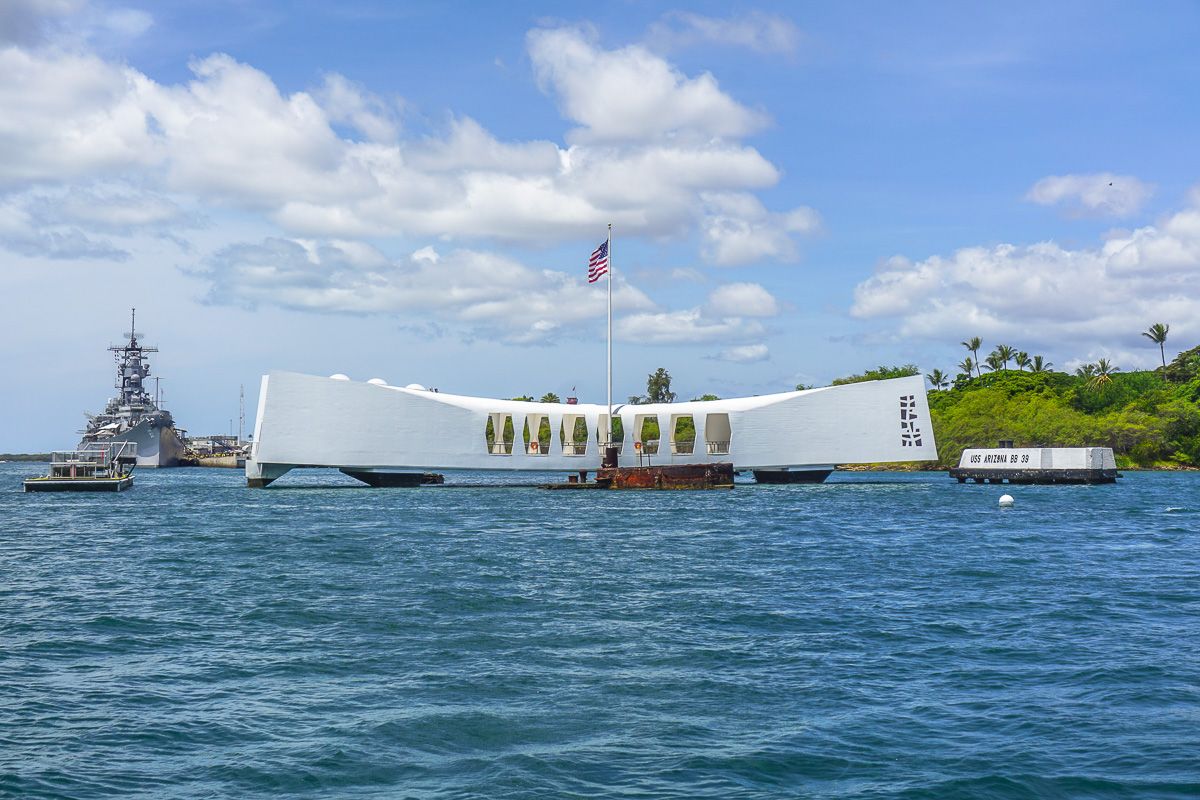 Update August 2019: It is still possible to visit the USS Arizona but you won't be able to go on the dock that overlooks the shipwreck. There were fundamental issues found with the dock in spring 2018 and it has been closed since then for repairs. It is expected to reopen in fall 2019 and you can check the status here.
Regardless, there are still other options to visit the USS Arizona and you still need a ticket! Before seeing the USS Arizona, everyone watches about a 25-minute movie on Pearl Harbor and the events that happened on December 7, 1941. Even though it is basic history knowledge, I thought the film was well produced and provided necessary background information. Afterward, instead of getting on a boat to go out to the dock, the U.S. Navy will take you on a narrated harbor tour of Battleship Row and get as close to the USS Arizona as possible. Although I wasn't able to see the USS Arizona from above on the dock, the U.S. Navy did a fantastic job of substituting this boat ride and making sure that everyone still had an educational and fulfilling experience. I didn't feel like I missed out on anything and the U.S. Navy did a great job in making sure that everyone could see the ship from all angles.
USS Missouri
As the site of Japan's formal surrender to the United States during WWII, the battleship USS Missouri had an admirable history. It had a role in not only WWII but also the Korean War and Operation Desert Storm in the 1990s. After being decommissioned for good in the mid-1990s, it was donated to Pearl Harbor in 1998 and is now a floating museum.

The dent made where a Japanese kamikaze hit the USS Missouri.
The USS Missouri, or informally "Mightly Mo," was the last battleship ever commissioned by the United States. It entered service in 1944 and played a role in the Pacific towards the end of the war (it was actually struck by a kamikaze plane but it barely left a mark!). After the Japanese surrendered on the USS Missouri, the battleship continued to play an important role in ensuring world peace. It traveled around the world during the Cold War and ended up participating in the Korean War. After the Korean War, the USS Missouri was decommissioned in 1955 and entered the Pacific Reserve Fleet. However, she was recommissioned in 1986, modernized, and went on to participate in Operation Desert Storm. In 1992, the battleship was decommissioned for a second time and officially struck in 1995.
Although it was met with a bit of resistance, the USS Missouri was donated to Pearl Harbor in 1998 and officially opened as a floating museum in 1999. The bow of the USS Missouri faces the final resting place of the USS Arizona, indicating that it is always watching over and protecting the remains of the USS Arizona.

The bow of the USS Missouri pointing towards the shipwreck of the USS Arizona.
USS Oklahoma
The least popular memorial at Pearl Harbor, I doubt many visitors even realize that there is a USS Oklahoma memorial. The ship was torpedoed during the surprise attack and had the second-highest loss of life behind the USS Arizona. Although the battleship was eventually righted, it was damaged beyond repair. The 429 pieces of pristine white marble commemorate the 429 lives lost when the USS Oklahoma sank while the use of white marble reflects the white dress uniform of the US Navy.
Pearl Harbor Aviation Museum
The Pearl Harbor Aviation Museum is not to be missed and will definitely be a hit with young children! There are two different hangars as well as a restoration shop. Hangar 37, the first hangar you'll visit upon entering the museum, is home to many WWII military planes including the Japanese Zero, planes in the Doolittle Raid and the Battle of Midway, and the exact plane flown by President George H.W. Bush. Hangar 79 focuses on planes and helicopters used in the Korean War as well as more modern conflicts. It is also home to the restoration shop. Once an aircraft is restored to their original state, they are put out on display in one of the hangars. You can even get a behind-the-scenes tour of what's currently being restored.
The Prince in front of President George H.W. Bush's plane.
Both hangars survived the Pearl Harbor attack and in Hangar 79, you can still see Japanese bullets in the blue glass windows. During the war, the hangars were used as maintenance and engine repair facilities. The museum is super interactive and in a lot of cases, you can go up close to the planes.
USS Bowfin Submarine
The USS Bowfin submarine, another museum ship, is moored at Pearl Harbor. One thing this submarine taught me is I have claustrophobia! Launched exactly a year after the attack on Pearl Harbor, the USS Bowfin was nicknamed the "Pearl Harbor Avenger" and went on to have nine war patrols in the Pacific during WWII. It is estimated that she sunk a total of 44 enemy ships as well as damaged 7 other ships. The USS Bowfin was decommissioned and recommissioned two separate times before finally being struck in the 1970s.
There is also a memorial outside of the USS Bowfin honoring the 52 American submarines and the over 3,500 American submariners lost during WWII.
Pearl Harbor Visitor Center Museums
Upon entering Pearl Harbor Memorial, there is an array of indoor and outdoor exhibitions commemorating various events and individuals involved in either the attack on Pearl Harbor or the subsequent war in the Pacific. There are two indoor galleries "Road to War" and "Attack" that outline the events leading up to December 7, 1941, as well as the aftermath of the attack. These galleries are supplemented with personal memorabilia, photographs, artifacts, etc.
There are also outdoor exhibitions and memorials lining the shoreline of Pearl Harbor. The interpretive wayside exhibits allow you to imagine what Pearl Harbor looked like on the day of the attack by superimposing images from 1941 onto images of the harbor today. Remembrance Circle, another outdoor exhibition, pays tribute to all the individuals (both military and civilian) that died on December 7, 1941. Along with military casualties, 49 civilians were killed in the attack including a three-month-old baby, seven-month-old baby, two-year-old girl, and an eight-year-old girl.
Make sure to take time and walk near the main entrance. There are many exhibitions, statues, and other memorabilia throughout the grounds that can be easily overlooked.
Ideal Route for Visiting Pearl Harbor
One of the most important aspects of visiting Pearl Harbor is being strategic about the order of visiting the sites! If you want to see everything, it will take you most of the day. Here's the ideal route for visiting Pearl Harbor and making the most of your experience. I've also included estimated time allotments to help better plan.
USS Arizona (1.5 hours with movie and boat tour) – Visit the USS Arizona as early as possible in the day, preferably as the first thing you do. This is the hardest thing to plan because it is based on your assigned ticket time. Even though I had an assigned ticket time of 2:00 pm, when I arrived on the morning of, they had a few tickets left for the next boat. It ended up working out perfectly in our favor! It's important to note that if you reserve online, the earliest ticket time you can get is at 11:00 am. All tickets before that time for the USS Arizona are available day of for walk-ins.
USS Missouri (2-3 hours) – Going to the USS Missouri requires a 15-20 minute bus ride to Ford Island. The buses come every 15ish minutes so you have to allow travel time when going over to Ford Island and coming back.  The USS Missouri is massive and requires multiple hours to thoroughly visit it. Definitely don't skimp on your visit here!
USS Oklahoma Memorial (15-30 minutes) – The bus stop for the USS Missouri is right next to the USS Oklahoma Memorial. It's quite a small memorial that can be observed in less than 15 minutes. I was able to go over and visit it will waiting for the bus to come and take me from the USS Missouri to the Pearl Harbor Aviation Museum.
Pearl Harbor Aviation Museum (2-2.5 hours) – Spread across two different hangars, the Prince and I enjoyed getting up close and personal with all the aircrafts. If you're not big into aviation, you can breeze through the two hangars within an hour or so. However, we enjoyed reading all about the different planes and how they were used in various wars. There is also a cafe here so it's a great place to stop, refresh, and eat something while in AC!
USS Bowfin Submarine (1 hour) – I'll be honest, I got really claustrophobic in the submarine and only lasted about 20 minutes. However, it's fascinating to imagine life on a submarine for several months (count me out!). You're also able to roam the deck of the submarine.
Walking around near the Visitors Center (1-2 hours) – As I mentioned above, make sure you spend some time just walking around the grounds near the visitors center. There are several outdoor exhibitions and museums that should not be missed! The Prince enjoyed posing with different weapons from WWII.
Visiting Pearl Harbor on Your Own
Buying tickets for Pearl Harbor
There are multiple ticket options for visiting Pearl Harbor and to be honest, it can get quite confusing! Depending on what you want to do and see, the ticket prices range from free to $72 per person.
USS Arizona Visiting Options (Open from 7:00 am – 5:00 pm)
USS Missouri Visiting Options (Open from 8:00 am – 4:00 pm)
Mighty Mo Pass – $29.00 (13+) or $13.00 (4-12). This grants general admission to the USS Missouri and includes a 35-minute tour as well as 3 different self-guided tours. Buy tickets here.
Heart of Missouri Tour – $54.00 (13+) or $25.00 (10-13). You must reserve a time slot in advance for this tour. It grants you general admission as well as a 90-minute behind-the-scenes tour. This is a physically strenuous tour so it is hard to accommodate individuals with mobility issues. Buy tickets here.
USS Oklahoma Visiting Options (Open from 8:00 am – 4:00 pm)
USS Oklahoma – Free and no ticket required. But you're only able to reach it if you're headed to the USS Missouri.
Pearl Harbor Aviation Museum Visiting Options (Open from 9:00 am – 5:00 pm)
General Admission – $25.00 (13+) or $12.00 (4-12). Admission includes access to both hangars as well as a free audio tour in either English, Spanish, Japanese, Korean, Cantonese, and Mandarin. Buy tickets here.
Legends of Pearl Harbor – $35.00 (13+) or $22.00 (4-12). It grants you general admission as well as a 1-hour guided tour including the restoration shop. Buy tickets here.
USS Bowfin Submarine (Open from 7:00 am – 5:00 pm)
General Admission – $15.00 (13+) or $7.00 (4-12) – Admission includes access to the submarine as well as the museum. You can also pick up a free audio tour in either English, Spanish, French, German, Korean, Japanese and Mandarin. Buy tickets here.
Walking Around Near the Visitors Center (Open from 7:00 am – 5:00 pm)
Visiting the grounds – Free and no ticket required
BEST OPTION: Passport to Pearl Harbor
Access to All Sites – $72.00 (13+) or $35.00 (4-12) plus $1.00 convenience fee per ticket. This pass includes access to all the sites including the USS Arizona, USS Missouri, Pearl Harbor Aviation Museum, and USS Bowfin Submarine.
This is the pass that the Prince and I bought. It was well worth the $72.00 and we didn't have to worry about not being able to access certain sites. If you're going to be there the entire day, definitely splurge on this pass!
Final Thoughts on Visiting Pearl Harbor
If you're in Hawaii, regardless of the island, you must make a trip to visit Pearl Harbor. It's a site that should be experienced by all Americans. While you can hire an outside tour group to take you around Pearl Harbor, it's extremely easy to visit Pearl Harbor on your own. Plan to spend the entire day exploring this memorial to one of the most tragic days in American history.
Planning a trip to Hawaii? Check out this additional post:
Visiting Pearl Harbor? Pin for later!